Nanjing Weida Logistics Equipment Co., Ltd located in Nanjing is a professional and leading manufacturer of storage equipment. We have the full line-ups of racking, shelving and their matched products including long span shelving, selective pallet rack, drive in rack, mezzanine rack, gravity rack, cantilever rack, push back rack, radio shuttle rack, ASRS system, steel pallet, stacking racking, steel cages and etc. These products were sold well in China domestic market and overseas.
The factory covers 20000 square meters including the workshop with 15000 square meters and warehouse with 4000 square meters. There are over 200 employees with the full organization, including Technology Department, Engineering Department, QC Department, Marketing and Sales Center, Export Department, Production Division, Plan and Sourcing Department, Finance Department, and General Affair Department. This well-qualified team ensures the system work of design, plan, production management, inspection, and after sales service.
We continuously not only make the new product developments and increase the production management system level as per the ISO9001 International Quality System standard, but also focus on the environment protection to comply with the ISO 14001 and OHSAS18001.
It is our tenet to promise "Qualified production from craftsmanship spirit, service globalization". We will always solve all the problems related to the logistics and storage for the customers with our best products and best services.
Dynamic Storage Carton Flow Rack
Slide Carton Flow Through Racking for Dynamic Storage
Carton Flow Rack,
with its tilted shelves which improve visibility and order accuracy, is the perfect answer for split case or piece picking. The racking is developed from the medium duty racking. Aluminum or steel roller rail are equipped between a pair of beams per layer to form a slope of 3 degree, and under the driven of gravity, product moved from the loading side to the picking side of the rack, "first in first out" of goods are realized.
The height of the racking is normally lower than 2.5M and the loading capacity of each layer is 1000kg at the most. Shelves can also be adjusted to meet your picking height requirements.
Heavy duty gravity pallet flow rack
Pallet flow rack, also known as "gravity flow," is a FIFO (first in, first out)
dynamic storage system. With pallet flow, you can achieve high-density storage while
maintaining a FIFO retrieval order. Pallet flow racking maximizes actual storage space
by minimizing aisles. Pallet flow systems can be designed to hold up to 20 pallets deep
in one lane and allow for quick and efficient inventory turnover.
Features
a) Unique aluminium or steel roller rail system which cartons move smoothly to the other side;
b) FIFO( first in first out) realized
c) Flexible design on size and structure according to box or carton size;
d) Dramatically improve warehouse efficiency
e) Keep labor cost down
f) Convenient access for two sides of assembly line
g) Perfect for warehouse slit case or piece picking
warehouse storage Carton flow rack
More details
Model

Pallet flow rack/Carton flow/gravity rack

Pallet

Size

A) W1200*D1000mm

B)W1200*D1200mm

C) W1200*D1100mm

D) W1200*D800mm

Materials Optional

A) Quality Steel Q235A used for normal temperature storage situation

B) Quality Steel Q235B used for cold storage room

C) Environmental protection powder for surface treatment--powder coating

Craft-work

A) hole-punching

B) cold rolling

C) welding

D) powder coating

Structure

A) bolted structure

B) welded structure

Color

A) as to our standard model

B) according to customer

'

s requests

Pack model

A) standard export packing

B) according to customer

'

s requests

Package material

A) transparent and dust-proof poly-sheet

B) hard carton paper

C) long and thin plywood bar

D) plywood pallet; steel and plastic straps

E) air bag used when loading container

MOQ

5-10 sets; the model is subject to your requirements

Payment

A) T/T

B) LC

C) Paypal or Western Union

Warranty

A) one year against manufacturing defect

B)

8-10 years of life time,

offer lifetime consultation on problems occurred

Quantity

A) 20

'

container

B) 40

'

container

C) a sample order

17500kgs

26000kgs

1 set

Delivery time

In 15 days

In 20 days

In 7 days

Note

All racks can be customized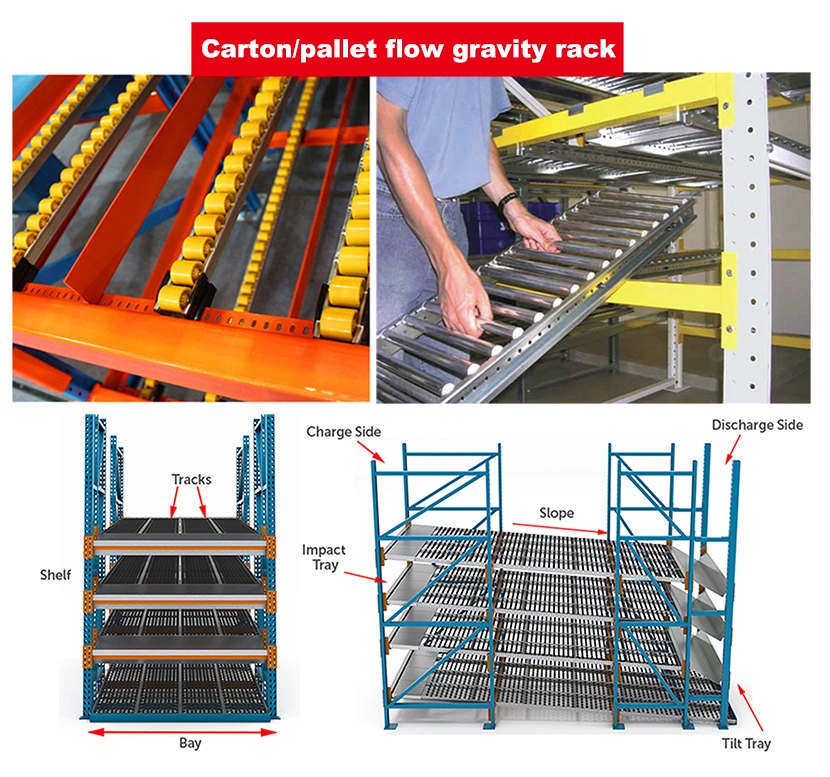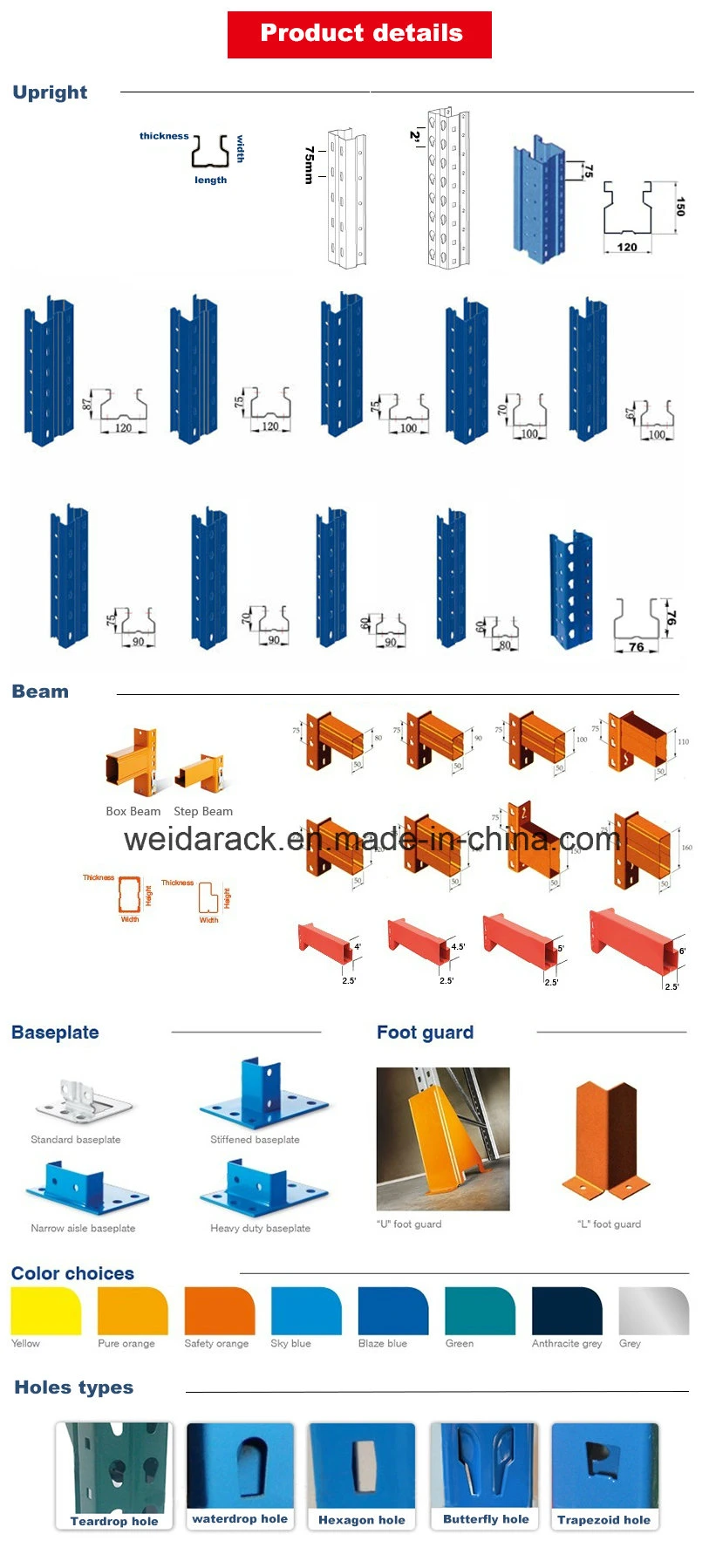 The basic essential factor
for designing of heavy duty pallet racking and warehouse:
First,
cargo and pallet:
1. Cargo weight (including pallet or steel box pallet).
2. the size of pallet and cargo.
3. the direction as the fork lifter enters the pallet to deposit and withdrawal cargo.
Second
, forks lifter:
* model or technical parameter of Forklift.
* biggest height of lift and the shortest distance for the channel to be used of forklift.
Third
, warehouse:
1. the plane size of warehouse.
2. the only high can be used of warehouse.
3. the direction and the request as cargo enter the storehouse.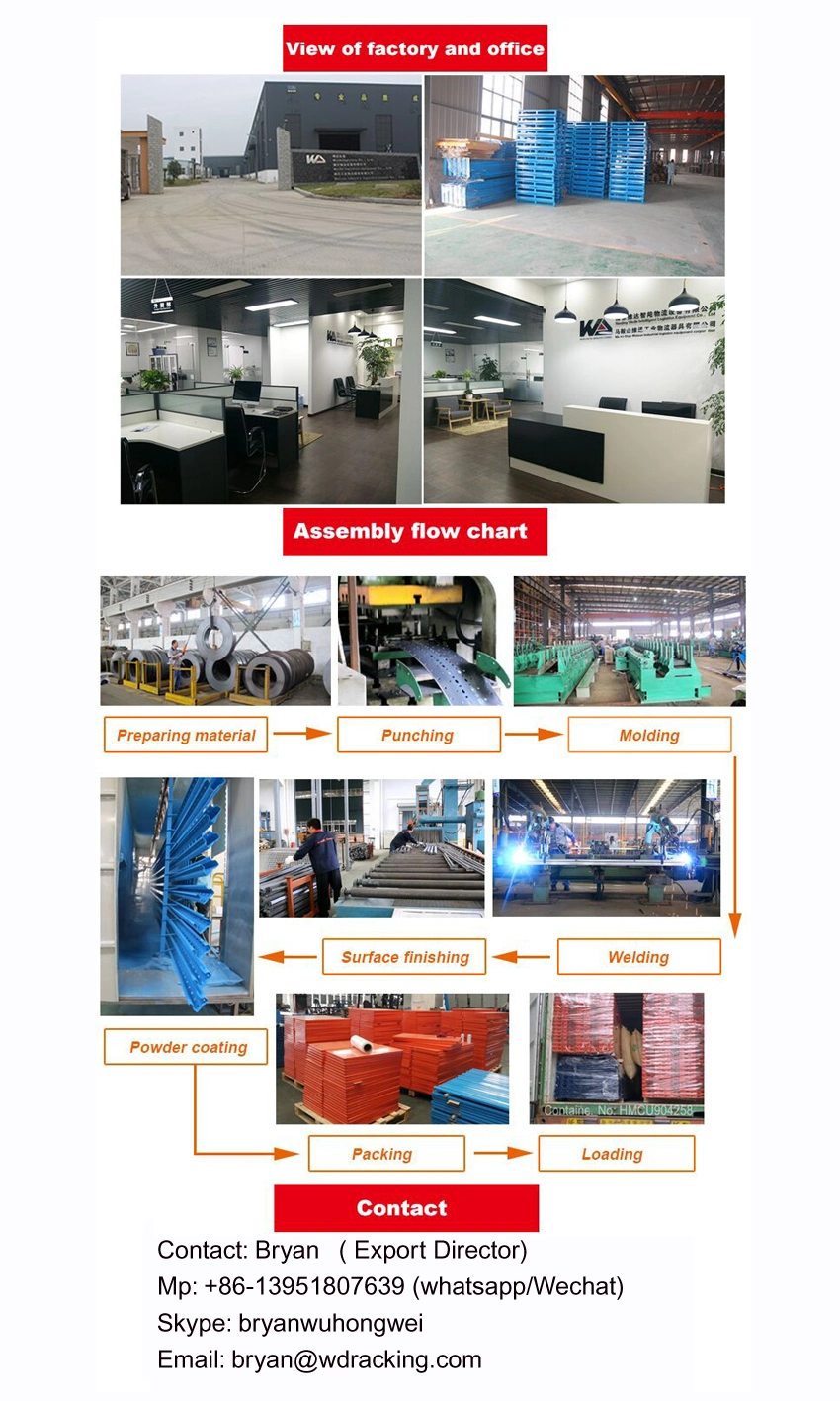 We ensure the most productive warehouse pallet rack solution is provided whether working from your plans or developing a cost-effective layout that is just right for your needs. You are assured of the best designed, most efficient and safest racking.

We also supply accessories like collumn guard, barrier, decking panel, adjustable base plate, wire mesh plate, truck rail etc, and other material handling equipment for warehouse storage.