Noise canceling headset heavy duty headphones/two way radio headset
Descriptions:
Black color headset,Yellow,Blue,Red optional
Noise cancelling microphone,changeable boom microphone
Quick release cable port for easily attaching cables for any 2 way radios or Sprint / Nextel phone
Heavy duty headset with mini XLR Jack for replaceable cable
Ear cups with acoustic noise reduction material and gel ear pads
High quality large round PTT button with 360 degree metal clip,PTT#50
Behind the head metal band with overhead strap,idea for use with hard hats
Minni XLR quick disconnected jack,
Ideal for airport tarmacs, fans at car races, construction sites and other high noise environment.
Connector suit for Motorola, Kenwood and Icom, Hytera, vertex, Yaesu or other radios.
Speaker
Microphone
Impedance: 300 ohm/mono
Type: Dynamic Noise Canceling
Core: Neodymium
Frequency response: 300-4kHz
Frequency response: 200-6kHz
Impedance: 150 ohm
Sensitivity: 101dB with 1mW Input
Boom type: 3 pc. wire boom
Technical
Mechanical
Kevlar® reinforced copper wiring
Certified NRR: 24db
5-pin detachable cord connection
Domes: ABS high impact plastic
Polyurethane insulation (UV safe)
Color: Assorted
1,000,000 cycle sealed push switch
Hardware: Spring Steel
Weight: 13.8 oz.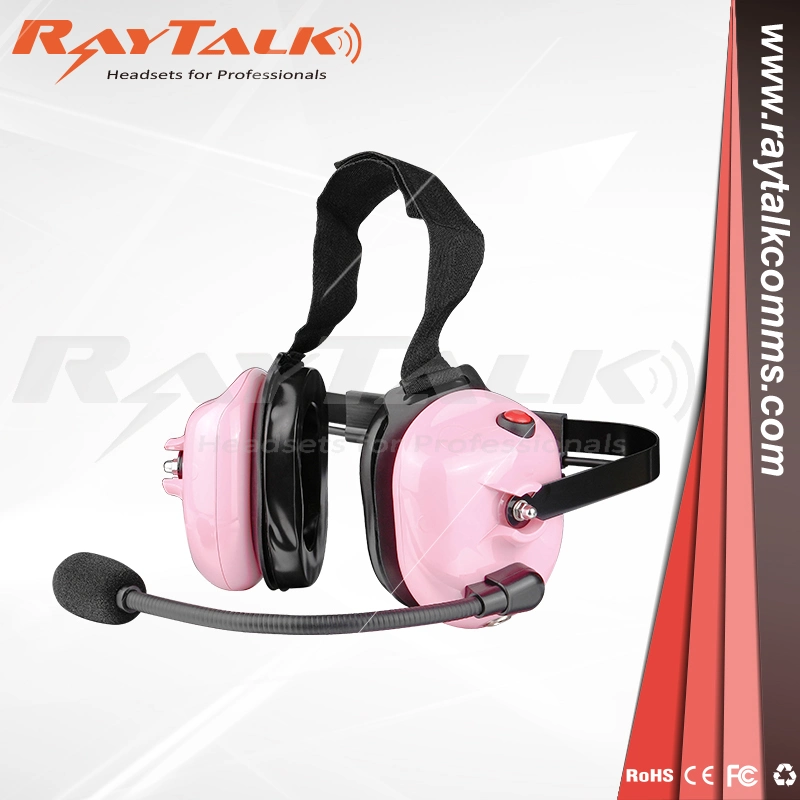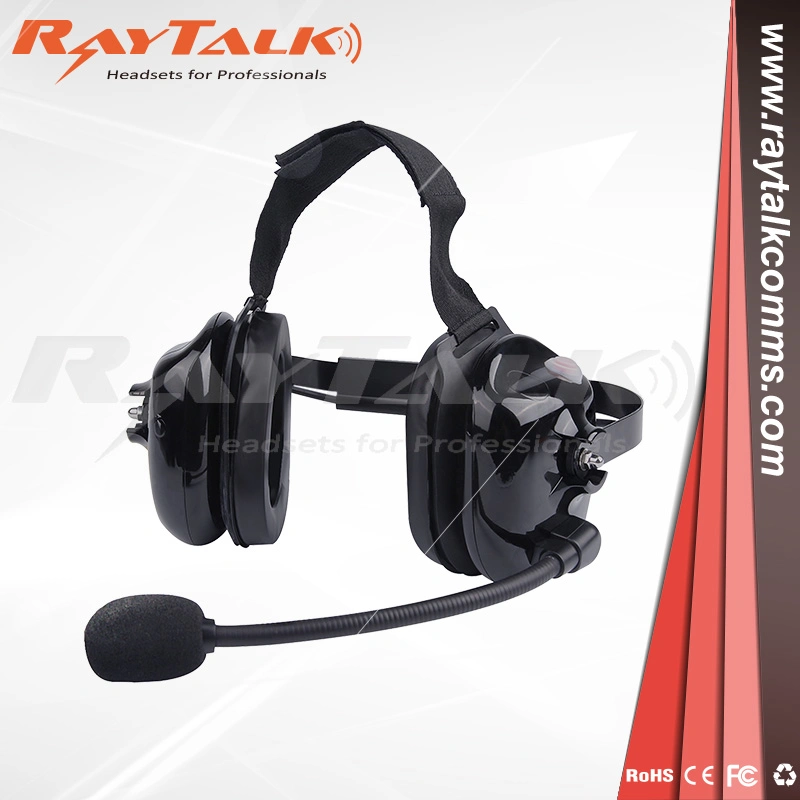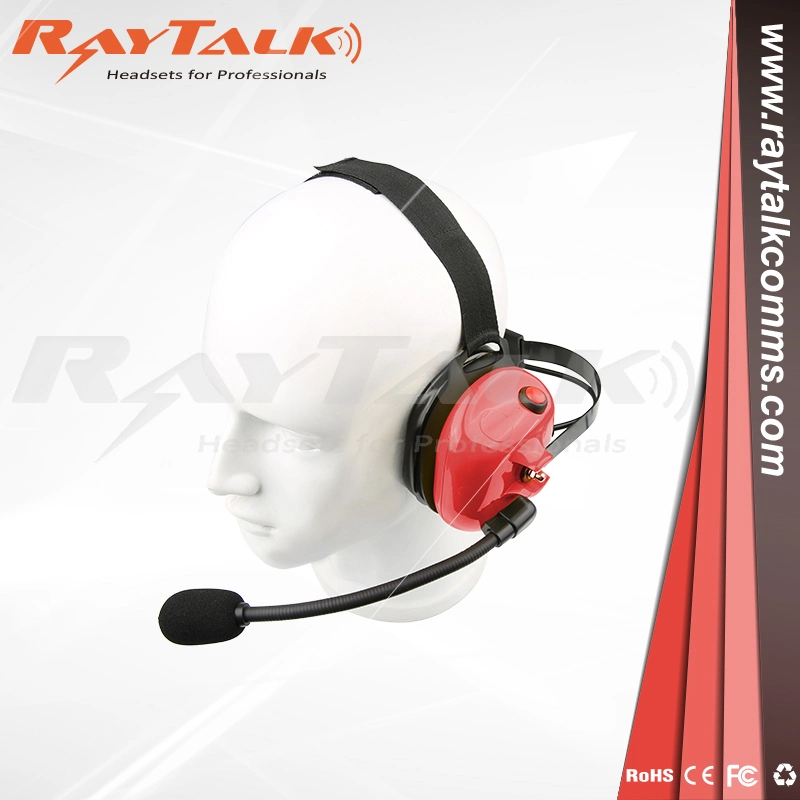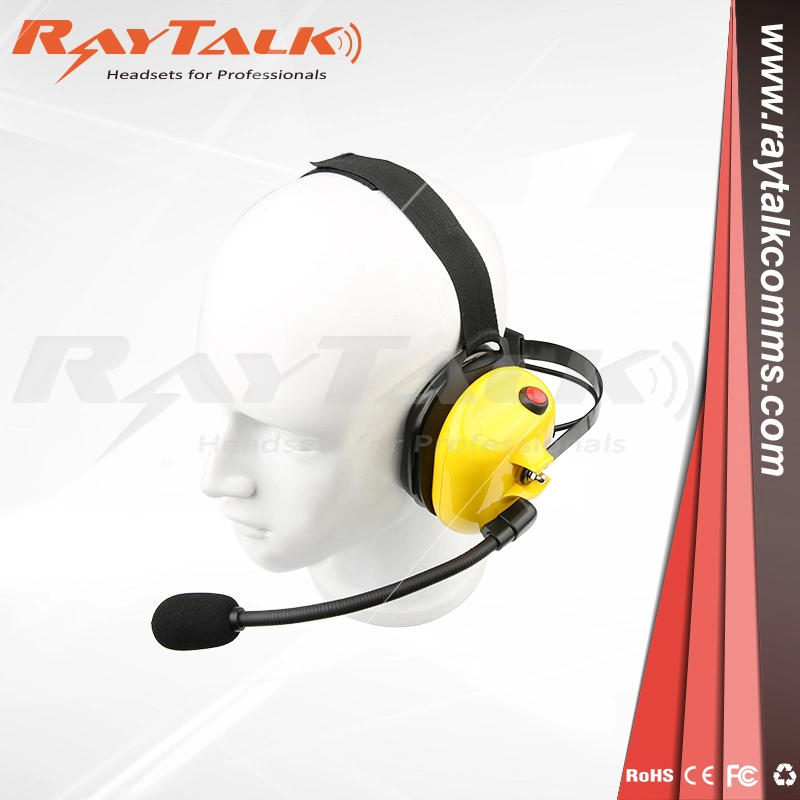 Company
Raytalk Communications Ltd focus on two way radio accessories and Aviation Headset since 2003.
Our products include Aviation Headset, Heavy duty headset, PTT Selection, Lapel Microphones, Surveillance Kits, Earpieces, Ear Bone Microphone, Handle Speaker Microphone, Throat Microphone, Boom Microphone, Listening Only Kits, Audio Adapters, Spare Parts etc. Compatible with Motorola, Kenwood, Icom, HYT, Vertex, Nokia, Midland, Nexus, Simoco,etc. With an experienced and professional team, our products have been exported to many countries and regions around the world and enjoy high reputation among our customers.
Notice: If you are also interest in other products, please leave a message and help to advice details.
We have been in two way radio business since 2006,mainly supply Hand Held and Mobile Communication Radio Accessories. With team of professionals work,our products and services are broadly applied in Govemment,Public Security,Finance,Traffic,Airport,Hotel,Hospital,Aviation applications and marketplace etc.
Our products included Two way radio earpieces/headsets,Speaker Microphone,Audio Adapters,Batteries, Batteries charger, Leather case, aviation headset, spare parts thatcompatible with Motorola, Kenwood, Icom, HYT, Vertex/Standard,GME,Uniden,Sepura,Tait and so on.
RayTalk Communication has delivered comprehensive, dependable, one stop source service and cost-effective solutions to meet the demands of our customers and on site support service tailored to the specifications and budgets of our customers.Samples are available on request OEM and ODM orders also welcomed,to fulfill special requirement for professional users.Your requirements of mould making,and assembling of audio parts can also find their best way here. Our teams of experts works closely with customers and listen to your opinions with an aim to create products that best
suit for your need.
At RayTalk, we are committed to providing the highest level of customer service,competitive pricing, speedy delivery and a comprehensive,cutting-edge product offering. Our ultimate goal is your satisfaction. With the skill, range ofservice, stability and resources, we believe we can become your long-term communications partner.
Thanks for taking your time to browse our website and product offering.We keep a large of inventory in stock, so orders of exsiting models can be delivered in the shortest period of time.Should you have any inquiries,contact us now.We look forward to serve you and your customers.
RayTalk Communications Ltd
Optional Connector
CP040, CP140, CP150, CP160, CP180, CP200, CP340, CP360, CP380, EP450, GP3188, GP3688, GP300, GP600, GP88, GTX, GTX800, GTX900, P110, P1225, P1225LS, P1325, P225, SP1225, TALKABOUT, T280, TA2280, TA280, TA289, VISAR, I305, GP1280, GP140, GP240, GP280, GP320, GP328, GP329, GP338, GP339, GP340, GP344, GP360, GP380, GP388, GP540, GP580, GP640, GP680, GP688, GP750, EX500, EX560, EX600, GL2000, GP328PLUS, GP338PLUS, PTX700PLUS, PTX760PLUS, GP628, GP644, HT1000, GP1200, GP2010, GP2013, GP900, HT1100, HT6000, JT100, JT1000, MOBIUS, MT2000, MT2100, MTS1200, MTS2000, MTX8000, MTX838, MTX868, MTX9000, MTZ2000, MTP850, MTP800, MTH650, HTH800, MOTOTRBO, XPR6300, XIRP8200, XIRP8208, XIRP8260, XIRP8268, XPR6350, XPR6500, XPR6550, XPR6580, XBR6300. XBR6350, XBR6500, XBR6550, XBR6580, DP3400, DP3600, DGP4150, DGP6150, GTP800, APX7000,SL4000, ST7500
TK208, TK308, TK2102, TK2107, TK238, TK3102, TK3107, TK338, TK2100, TK2100K2, TK260, TK260G, TK261, TK270, TK272, TK272G, TK278, TK3100, TK3100K2, TK3101, TK360, TK360G, TK370, TK370G, TK372, TK372G, TK373G, TK378, TK259, TK355, TK359, TK250, TK250G, TK250N, TK350, TK350G, TK350N, TK353, TK353N, TK430, TK431, TK2140, TK2160, TK2170, TK2360, TK3140, TK3148, TK3160, TK3170, TK3173, TK3360, TK2212, TK2300, TK2302, TK3212, TK3300, TK3302, TK2200, TK2200L, TK2200P, TK2202, TK2202L, TK2207, TK3200, TK3200LP, TK3200P, TK3201, TK3202, TK3207, TK3302U, TK4100, TK490, TK180, TK190, TK280, TK290, TK380, TK390, TK480, TK481, TK5400, TK3130, TK3131, NX200, NX300, TK-208, TK-308, TK-2102, TK-2107, TK-238, TK-3102, TK-3107, TK-338, TK-2100, TK-2100K2, TK-260, TK-260G, TK-261, TK-270, TK-272, TK-272G, TK-278, TK-3100, TK-3100K2, TK-3101, TK-360, TK-360G, TK-370, TK-370G, TK-372, TK-372G, TK-373G, TK-378, TK-259, TK-355, TK-359, TK-250, TK-250G, TK-250N, TK-350, TK-350G, TK-350N, TK-353, TK-353N, TK-430, TK-431, TK-2140, TK-2160, TK-2170, TK-2360, TK-3140, TK-3148, TK-3160, TK-3170, TK-3173, TK-3360, TK-2212, TK-2300, TK-2302, TK-3212, TK-3300, TK-3302, TK-2200, TK-2200L, TK-2200P, TK-2202, TK-2202L, TK-2207, TK-3200, TK-3200LP, TK-3200P, TK-3201, TK-3202, TK-3207, TK-3302U, TK-4100, TK-490, TK-180, TK-190, TK-280, TK-290, TK-380, TK-390, TK-480, TK-481, TK-5400, TK-3130, TK-3131, NX-200, NX-300
TC-268, TC-368, TC-268S, TC-368S, TC-370M, TC-380M, TC-3000, TC-3600, TC-3600M, PT-790, TC-780, TC-500, TC-600, TC-700, TC-610, TC-620, TC-2110, TC-1600, TC-510, CPS, CP-380, CP-330, CP-150, CP-350, CP-220, TC-500S, TC-585, TC-610S, TC-720S, TC-710, TC-510