Product Description
Specifications:
| | |
| --- | --- |
| Thickness | 2.5-8 mm |
| Bubble Size | 10x2.5/4/5mm; 20x6/7/8 mm |
| Roll Dimensions | 1.20m x 30m; 1.2m x 40m |
| Roll Weight | 10-18 kg |
| Roll diameter | 450- 650mm |
Our main products include:
· PY1-Woven Foil(MPET)
· PY2-Foam Foil(MPET)
· PY3-Bubble Foil(MPET)
· PY4-Foil Scrim Kraft
· PY5-MPET coated PE;Aluminium Film
· PY6-Paper Foil (MPET)
· PY7-Nonwovens Foil (MPET)
· PY8-Fiberglass Cloth Aluminum
· PY9-Reflective Fabric
· PY10-Finished Products

Structures:
1) Al Foil / Bubble / Al Foil
2) Al Foil / Bubble / Bubble / Al Foil
3) Al Foil / Woven / Bubble / Al Foil
4) Al Foil / Woven / Bubble/ Woven/Al Foil
5) Al Foil/Bubble/White Bubble
6) Flame Retardant Green PE/Al Foil/Bubble/Al Foil

Features:
1) Water proof, no moisture retention, no fungi or bacterial growth and fiber free.
2) Advanced high R-Value performance reflection up to 97% of radiant heat flow.
3) Increase productivity, save energy, heat reduction, and environmental save. Reflective to sunshine and solar heat.
4) Delivers easy, cost effective for roofs, ceilings, walls and floors.
5) Safe to handle, quick and easy installation, competitively priced.
6) Reducing handing, storage and transport costs.
7) Inhibiting dew point condensation problems.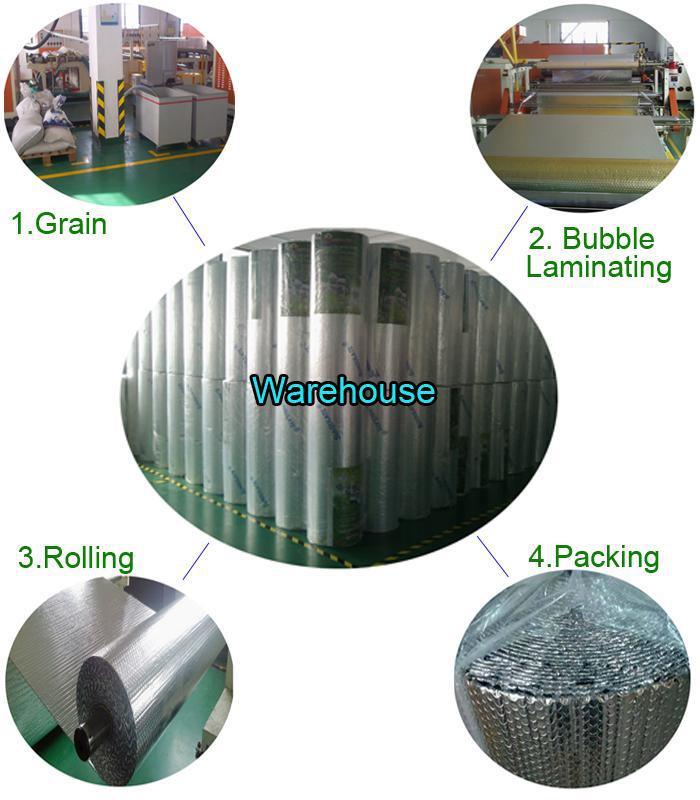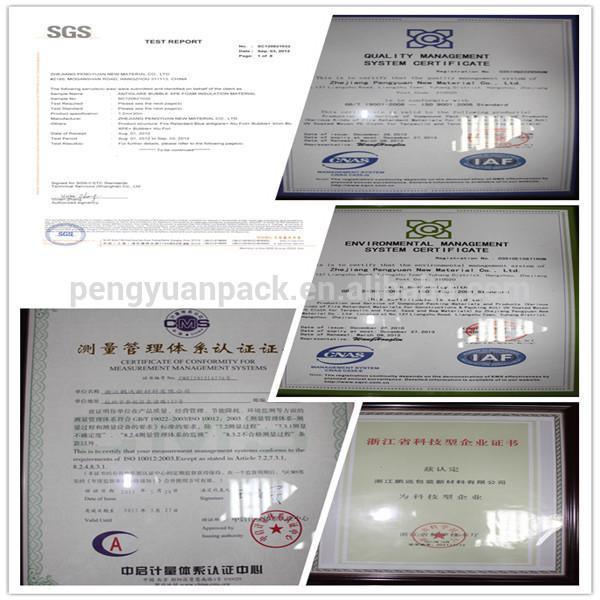 Application:
The material provides excellent insulation: reflects up to 97% of radiant energy in addition to resisting other types of heat transfer from conduction,convection,and radiation.The side of metalized PET/Alu forms an effective barrier against moisture,air currents and vapors.It is economical solution in many field.
1) Attic Insulation
Stop unwanted heat from entering your home through your roof by installing bubble foil insulation in your attic
2) Crawl Space Insulation
Installing it in the crawl spaces will keep your home warmer in the winter and cooler in the summer. It is durable and easily installed using a staple gun, and prohibits the formation of mold.
3)
Stud Wall Insul
a
tion
It is unaffected by humidity and moisture making it safer and more effective than mass insulation alone. The polyethylene bubbles create a thermal break while the 99% foil exterior provides protection against radiant heat transfer.
4)
Under Concrete & Radiant Heat Floor Insulation
It provides a radiant heat barrier that keeps your concrete from becoming cool. Its design has two layers of bubble with our 97% reflective foil barrier sandwiched between. This configuration
prevents the foil from becoming corroded from the concrete's touch.
Wraping:
(1)
,
Protective coating of ventilating pipe,HVAC
Duct
&
Pipe
;
(2)
,
Shells of air conditioner and water heater
;
(3),Packing lift/elevator,
machinery
, sensitive products
.
(4)
,Industrial & commercial sheds.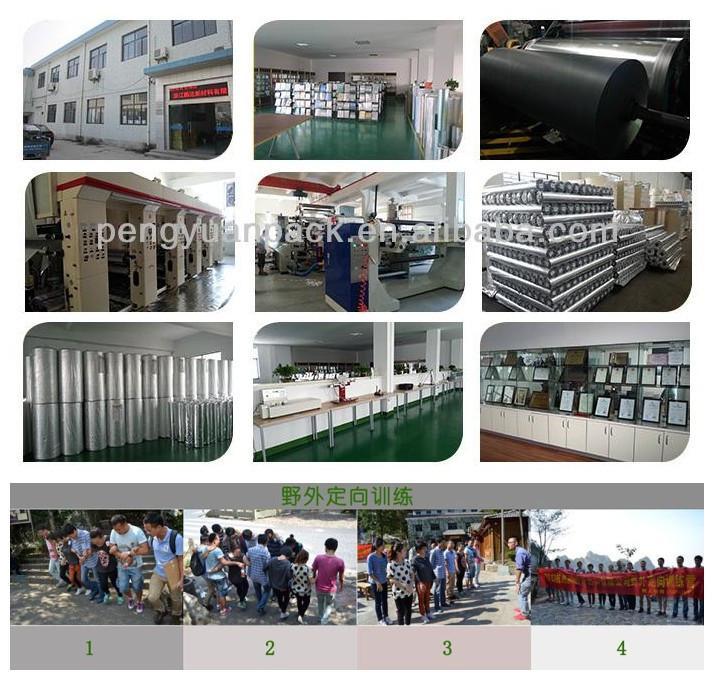 Material structure
AL+AIR BUBBLE(4MM)+AL
Standard size
1.2 X 40 M
Loading quantity
20 GP
40 HQ
400 Rolls
Technical Parameters
Properties
Unit
Value
Temperature range
Fahrenheit (ASTM C411)
-76 ~+212

R-value
/
2.0-11.2
Fire-proof grade
/
Class A / Class 1
Emissivity
COEF
0.03 - 0.04
Thermal conductivity
W/m0
0.032 - 0.036
Apparent Density
kg/m3
54.8
Reflectivity
%
96 - 97
Vapor transmission
g/m2kpa
0.012
Corrosion
Doesn't genterated
Tensile strength MD
Mpa
13.43
Tensile strength TD
Mpa
14.58