Beam Type Rack and Shelf/Warehouse Pallet Racks/
Warehouse Pallet Racking
Pallet Racking System is a most useful and cost-effective storage racking system providing direct access to all pallets. It provides high capacity storage, is easily installed and adjusted, and has low equipment and capital costs.
Features of pallet racks:
1. Pallets can be located, accessed and moved individually.
2. Rapid handling of almost all types of palletized goods.
3. Infinitely adjustable and offering a wide range of options and components to accommodate specialized needs.
4. Maximizes space use in any warehouse configuration while retaining optimum product accessibility.
5. Strength and rigidity prevents compression damage to goods.
6. Bottom level of pallets can be stored on the floor, lowering structure costs.
Why choose iRacking's racks?
1. As a leading racking manufacturer in China, we enjoy 10+ years of experience.
2. High quality raw material of steel Q235 is purchased from Jiangsu Shagang Group Co. Ltd., the top 5 steel manufacturer in China.
3. Industry's first contract tracking system helps you know the updates of your purchased products.
4. Certification: ISO9001:2008, SGS, CE, and AS 4084-2012
| | |
| --- | --- |
| Material | Steel Q235 (Q345 for Cold Room Application) |
| Loading Capacity | Customized and up to 4,000 Kg UDL/level |
| Racking Height | Customized and up to 11,000 mm |
| Racking Depth | 700-1,200 mm |
| Beam Length | Customized and up to 3,600 mm |
| Racking Finish | Frames (Powder Coated or Pre-galvanized) + Bracings (Powder Coated or Pre-galvanized) + Beams (Powder coated) |
Product Show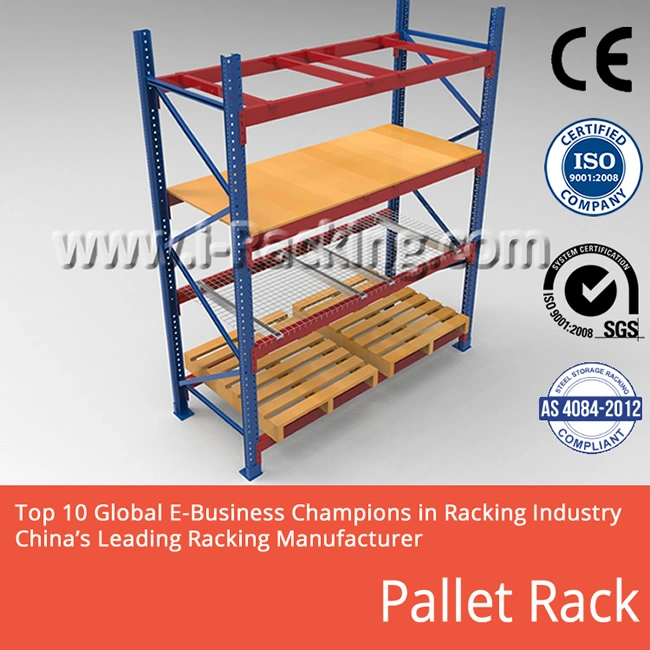 Product Detais
Upright:
Standard section sizes: 80*60*1.8-2.0, 90*70*1.8-2.0-2.5, 100*70*2.0-2.5, 120*95*2.0-2.5mm.
Boxed Beam:
Standard section sizes: 80*50*1.5, 100*50*1.5-2.0, 110*50*1.5-2.0, 120*50*1.5-2.0, 140*50*1.5-2.0, 160*50*1.5-2.0, 180*50*2.0mm.
Small Components include:
Post Baseplate, Bracing, Plastic Block for assembly of horizontal bracing, Anchors, Bolts & Nuts, and Safety Pin.
Accessories to Pallet Racking Systems:
Row Spacer connecting Upright Frames for stronger structure, U-shape Post Protector, L-shape Post Protector, Frame Barrier, Pallet Supporting Bar, Steel Pallets, Plastic Pallet, Special custom-made Pallets, Cage, Mesh Container, Mesh Deck, etc.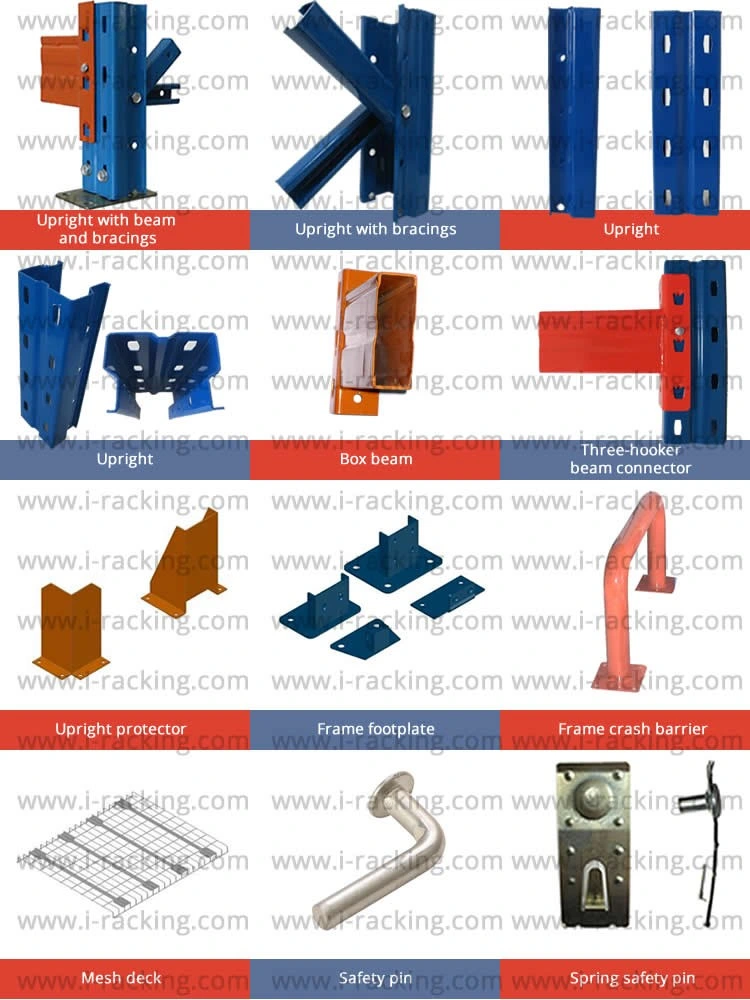 Who We Are
iRacking Co., Ltd. (NANJING IRACKING MANUFACTURING CO., LTD.), located in the city of Nanjing, China, is a professional manufacturer and supplier in the field of shelving & racking systems, storage equipment & accessories, and storage solutions and services.
Not only can we help to improve your partial storage work and operation speed, but also do the whole work of building a logistic center for you. We provide more than storage equipment.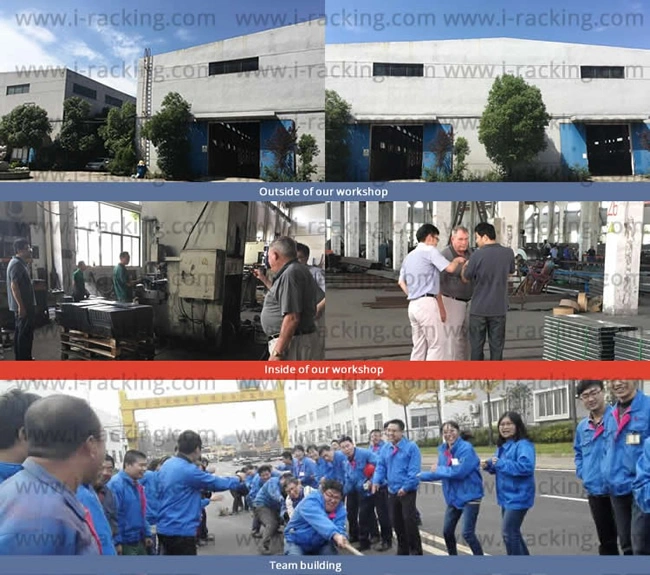 You can send us your CAD drawing, and we could give you a quick online quotation, or you just tell us your tridimensional dimension of your warehouse we can design and work out drawings for you within 48 hours.
Please inform us of the following information for quick quotation
| | |
| --- | --- |
| 1. | Drawing (if available) |
| 2. | Size of your warehouse (width, length, clear height) or your warehouse plan drawing |
| 3. | Size of racking (H*W*L) |
| 4. | How levels of the racking? |
| 5. | Loading capacity of each level? |
| 6. | (RAL) Color you want. |